Main Content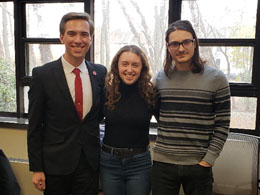 On December 6th, 2019, three students and their parents were invited to a luncheon reception in the Merle Adams room at the Cook Student Center. These students were the proud recipients of the Emily H. and Erwin G. Agthe Memorial Scholarship for the 2019-2020 academic year. Awarded exclusively to EBE majors, the Agthe scholarship is based on both academic merit and need. It contributes $5,000 in the current academic year to each student's in-state tuition and mandatory fees.

Here are the biographies of this year's scholarship recipients:

Jeremy Posluszny is a senior majoring in environmental and business economics at the School of Environmental and Biological Sciences, with a second major in public policy at Rutgers' Bloustein School. Over the past three years, Jeremy has served as a member of his township's planning board, secretary and trustee of the New Jersey FFA Foundation, a student officer of the New Jersey FFA Association, and secretary and board director of the Monmouth County Board of Agriculture. At Rutgers, Jeremy has represented the university at events like the annual conference of the National Association of State Departments of Agriculture.

Jeremy currently serves on the SEBS Governing Council and is a member of the Rutgers University Senate. He also serves as a legislative aide in the New Jersey Legislature for Assemblyman Ronald S. Dancer. As an advocate for career and technical education, Jeremy values the immersive learning that the Department and its faculty provide to students. After completing his undergraduate studies in May 2020, Jeremy plans to attend law school to focus on civil rights, constitutional law, and corporate governance. Afterwards, he hopes to continue in his career in public service.
Nechama Lowy is a junior in the environmental and business economics program; she is also pursuing the SEBS minor in sustainability. Nechama recently completed the First-Year Interest Group Seminar Peer Instruction program, where she taught a class about Environmental Policy and Awareness. Partly as a result of this experience, she is considering a career in Environmental Law to advocate for communities affected by climate change. This summer Nechama is interning at Reckit Benckhiser's RB Health division as a Commercial Health Intern, where she hopes to learn how health and hygiene improve community well-being. Next year, Nechama will write her senior thesis on plant-based eating. She wants to explore how the transition to a primarily plant-based diet would affect the supply chain of the meat industry in the U.S.

One of the reasons Nechama loves DAFRE is the friendly and personable professors. Because classes are small, she can build authentic relationships with instructors, faculty members, and fellow classmates. She knew that she wanted to be in a program that focuses on environmental studies. Having teachers knowledgeable in this field has been, she says, a real asset to her education.
Louis Tallone is a junior in the Environmental and Business Economics program who hails from Roebling, New Jersey. He is an avid international traveler who has been to nine countries so far, travelling mostly alone. Louis transferred to Rutgers from Rowan University, where he earned an Associates' Degree of Applied Science in Geospatial Technology. When he originally came to SEBS he majored in the Agriculture and Food Systems program, because he hopes to start his own agribusiness some day. Louis made the switch to the business economics program so he could hone his business skills and leave the university with a recognized credential for business opportunities of all kinds. Ultimately, Louis's goal is achieve self-actualization—to realize his maximum potential. For him, this would mean growing plants for a living, seeing as much of the world as possible, and having fun along the way!