Main Content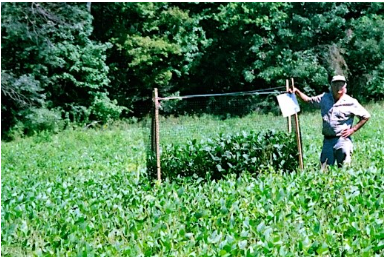 Most Americans are probably aware of the conflict between wildlife conservation and cattle or sheep ranching near places like Yellowstone National Park. In order to protect wolves or grizzlies within the park, livestock on nearby ranches are occasionally sacrificed to them. The images we see are grisly.
When the commodity is a crop, however, and the predator is both ubiquitous and generally harmless to humans, the damage to agriculture goes largely unnoticed. This is true no matter how serious it is in economic terms.
This is the political challenge faced today by New Jersey farmers in connection with their most destructive pest: the all too familiar white-tailed deer
"The deer take 25% of every paycheck," said a North Jersey Farmer who participated in a recent New Jersey Agricultural Experiment Station case study on deer's impact on farming. One reason why ordinary citizens don't notice this level of crop damage is that deer are so efficient at browsing vegetation. A field of soybeans, for example, should be waist high at harvest time. But many New Jersey soybean fields are actually knee or even ankle high, because they have been uniformly cut down by Odocoileus virginianus. The typical non-farmer may think this is how soybeans are supposed to look—like clover (see image below).
Economists love their numbers, so consider the following: In the early 1970s, there were about ten deer per square mile in New Jersey, close to what is recommended for rural economies and ecosystem integrity. Today in many parts of the state this figure ranges from 44 to over 200. The NJAES case study quoted above measured nearly $1.3 million in deer-related damage and deer management costs, on only 27 New Jersey farms in crop year 2019. And these numbers do not even include damage to vehicles, which generates an estimated $100 million in insurance payouts in New Jersey each year.
"Any number I give you is probably an under-estimate," says Joe Paulin, an EENR doctoral student and experienced wildlife expert who studies this problem on behalf of the Agricultural Experiment Station and Rutgers Cooperative Extension. "Many of the costs of the deer problem are not obvious. They include having to abandon fields, not being able to grow preferred crops that would increase profits, having to change crop rotations, the need for increased use of fertilizers and herbicides, and time and money spent on deer management."
The emotional toll on the state's farmers, he adds, is also enormous. For example, farmers who prove damage can get special 'depredation permits' that allow them to shoot deer on their property year-round. Practically speaking, they must do this after hours. "It takes a physical toll after working in the field all day," said one South Jersey farmer. "Sometimes you have to go out at 1:00 AM. Try doing that after working all day in 90-degree heat."
Factors causing the deer overpopulation problem are well known. New Jersey's fragmented suburbanization provides deer habitat, while at the same time reducing areas that can be hunted. Over the past 30 to 40 years the number of people hunting in the state has declined.
And yet "the situation is not hopeless," says DAFRE Professor Brian Schilling, who marshals resources to address the deer problem in his role as director of Rutgers Cooperative Extension.
Townships can take advantage of several management options to reduce deer numbers. In residential areas like Princeton, where hunting is not allowed or practical, townships have obtained a "Community-Based Deer Management Program" permit that allows for additional lethal management options and removal of deer outside of regulated hunting season. The State has implemented a new cost-sharing program for deer fencing, a relatively expensive solution. There is also a convergence of interest among farmers, hunters, and those who run local foodbanks. An example is Hunters Helping the Hungry, a venison donation program. Since 1997, HHH has provided over 2 million meals statewide.
"Expanding venison donation through hunting, farmer depredation permits, and community-based deer management programs is an opportunity to enhance deer management while at the same time helping those in need," says Schilling. He adds that a shortage of meat processing infrastructure in the state remains a challenge, but it is one that can be addressed.
Is this a problem the State should even bother solving? Schilling had a quick answer to that question. "The citizens of New Jersey," he said, "decided decades ago to create a program that has spent about $1.8 billion so they could permanently preserve 240,000 acres for agriculture. It was not their intention that this land would effectively become de facto deer parks growing only weeds."
As for the farmers who know the problem best, they ranked deer damage as among the most urgent problems facing New Jersey agriculture at the last several New Jersey Farm Bureau conventions.
The first task for activists, however, is to get the New Jersey political establishment to acknowledge the magnitude of the problem. Several projects are under way at the New Jersey Agricultural Experiment Station to document the scope of the crop damage. Researchers and extension personnel use drones, camera traps, aerial photography, fenced test plots—anything that is both accurate and persuasive will do.
DAFRE Dispatch will continue to update its readers on this program of research, agricultural extension, and policy communication as it evolves.
References: Allmendinger, T., Van Clef, M., Kelly, J.F., Allen, M.C., and C. Barreca. 2020. Restoring forests in central New Jersey through effective deer management. Ecological Restoration. Vol. 38, No. 4.
Hunters Helping the Hungry: http://www.huntershelpingthehungry.org
Kelly, J.F. 2019. Regional changes to forest understories since the mid-Twentieth Century: Effects of overabundant deer and other factors in northern New Jersey. Forest Ecology and Management 444:151-162. https://www.sciencedirect.com/science/article/pii/S0378112719303044?casa_token=vjCkSRslwpcAAAAA:UaSuX8JWccN6VHwKIgBKFlrzUcIHhPg5Fkicfo_pgCtOSwYr0DTArEKEe2xXaXJOsLrJxQQC2xM
NJAES/HMFC (2020). Rutgers White-Tailed Deer (Odocoileus virginianus) Population Density Survey using sUAS Infrared: Hutcheson Memorial Forest Center and surrounding landscapes of Franklin and Hillsborough Townships November 2019 and March 2020. Rutgers University, School of Environmental and Biological Sciences, New Jersey Agricultural Experiment Station, Rutgers Cooperative Extension, Hutcheson Memorial Forest Center and Steward Green. https://njaes.rutgers.edu/home-lawn-garden/pdfs/Rutgers_HMF_Deer_Density_Final_Report.pdf
NJDEP (New Jersey Department of Environmental Protection). 1999. Governor's Report on Deer Management in New Jersey. Trenton, NJ: New Jersey Department of Environmental Protection, Division of Fish, Game, and Wildlife.
New Jersey Division of Fish and Wildlife Hunters Helping the Hungry Program Information: https://www.nj.gov/dep/fgw/hlphngry.htm
New Jersey Farm Bureau, Steward Green (NJFB/SG). 2020. New Jersey white-tailed deer (Odocoileus virginiana) population density survey using sUAS infrared.
State Farm Insurance. 2016. https://www.statefarm.com